Diplomacy and Diamonds
My Wars from the Ballroom to the Battlefield
The real-life Texas socialite behind Charlie Wilson's War
By Joanne King Herring with Nancy Dorman-Hickson
(October 19, 2011; Hachette's Center Street)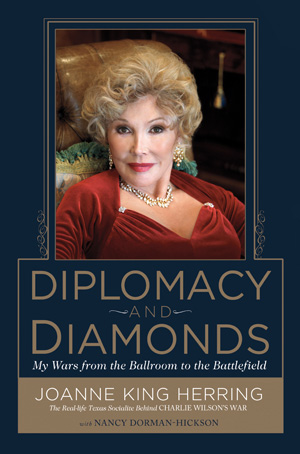 "Nancy Dorman-Hickson has won several national and local writing awards and is the co-writer for Diplomacy and Diamonds, a memoir about Houston socialite and world-changer Joanne King Herring, the real-life woman portrayed by Julia Roberts in the movie Charlie Wilson's War. Before freelancing, Nancy was an editor for Southern Living and Progressive Farmer magazines, and has received praise for her writing from Harper Lee, Pat Conroy, Naomi Judd, Fannie Flagg and many more."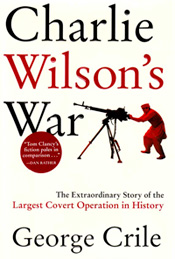 That's the promotional copy written about me for Diplomacy and Diamonds. In August of 2009, I was contacted by an agent with Dupree/Miller & Associates of Dallas, the "#1 non-fiction literary agency in the country." Dupree/Miller works with such public figures as Dr. Phil, Maria Shriver, and Joel Osteen. "I represent Joanne Herring, the woman Julia Roberts played in Charlie Wilson's War," the agent wrote me, "and I need someone who is a good storyteller, who could understand her faith and Southern sensibilities to collaborate on her memoir."
I fit the criteria.
Joanne and I spent a few hours on the phone getting to know each other. From our talk, I submitted a first-person writing "sample" based on one of the stories she told me. Later I learned my writing perfectly matched Joanne's "voice," the ultimate goal in a book collaboration. Being a co-writer is similar to the more familiar term "ghostwriter." But, co-writers receive credit for their contributions (including a book jacket byline) while ghostwriters remain completely behind the scenes.
I'm glad I'm able to freely talk about my connection to Joanne.
This larger-than-life Texan's accomplishments go far beyond the film's depiction.
Besides helping to end the Cold War, she hosted a TV talk show long before Oprah or Ellen. A renowned hostess, Joanne has entertained royalty, presidents, movie stars, and politicians. She's enjoyed friendship with such notables as Frank Sinatra, Eva Gabor, Sean Connery, and Presidents Ronald Reagan and George H. W. Bush. She served as honorary consul for both Pakistan and Morocco, expanding this largely ceremonial role into one that made a real difference in the lives of the people she represented. Today, she continues to work toward helping the Afghan people with the ultimate goal of getting American men and women in uniform out of the region and home.
How Amazon, IndieBound, and Others Describe Diplomacy and Diamonds, Joanne, and Me
"She's been dirt poor, she's been filthy rich. Rich was more fun. She married three times, divorced twice, found her true love and lost him to cancer. At 21, she was told she would soon die. She lived. Doctors said she'd never be able to have children. She had 'em. She's bargained with God, dictators, and Democrats. She's partied with princes, presidents, premiers, Barbara Walters, Anwar Sadat, Margaret Thatcher, Tom Hanks, and Francisco Franco…though not all at the same time. She captivated powerful men with her feminine charm, then persuaded them toward unlikely political alliances through her formidable intelligence. She's waltzed with Prince Philip in Buckingham Palace, dressed in men's clothes and smuggled herself in a barrel across the Pakistani border, threw a Roman-themed party so extravagant it was featured in Life magazine, and survived a Soviet gunship attack in the mountains of Afghanistan.
Joanne Herring, the Houston socialite portrayed by Julia Roberts in the film Charlie Wilson's War, is far more colorful, funny, and likable than any screen writer could have guessed. The former Texas television anchor is known for her improbable fight with the mujahideen against the former Soviet Union. But her full story–with all of its God, guts, and Gucci glory–has never been told. Born in the man's world of Texas in a time when women had limited choices, Joanne Herring blazed a trail with allies as unlikely as Charlie Wilson, Pierre Cardin, and President Ronald Reagan…and in so doing forged new paths for women in Pakistan, Afghanistan, and America."
"Joanne Johnson King Herring Davis hosted The Joanne King Show on television for 15 years. She served as honorary consul to both Pakistan and Morocco for ten years, has been knighted by the King of Belgium, and received the Quaid-e-Azam award, the highest honor given by the nation of Pakistan. She is also the recipient of the Freedom Foundation at Valley Forge Award. She has served on the boards of directors for UNICEF, the National Gallery of Art in Washington, D.C., LTV, Henredon Furniture, the Lindbergh Fund, and was co-chairman of the Special Olympics, with Henry Kissinger, in New York City.
Nancy Dorman-Hickson, in addition to 18 years as an editor at Southern Living magazine, is an award-winning writer with a deep sense of story, heritage, and faith."
To pre-order Diplomacy and Diamonds (publishing date: Oct. 19, 2011):